It's always nice to feel right at home when you're travelling to a foreign land. That's why we're so fond of villas: no need to share your holiday abode with strangers, you're at ease, you can do as you please in a totally gorgeous setting. And if there is one country that really knows how to make formidable villas, it's Sri Lanka.
Home to a profusion of charming homes-away-from-home in all shapes and sizes, we asked Lightfoot Travel to narrow the field for us with this list of the best Sri Lanka villas in the most visited regions.
Southern Beaches
Miles and miles of rugged beaches line the shores of Sri Lanka and nothing beats the beauty and charm of the southern beaches. No matter what kind of beach bum you are, chances are you'll find the perfect beach for your needs: surfing, sunbathing, fishing, snorkelling and in the right season – whale watching!
Where to stay:
Consisting of two houses, Talaramba Reef is nestled within 2.5 acres of lush gardens, a short hop from Galle's restaurants and shops, with stunning ocean views.
8 ensuite bedrooms, sleeps 16 adults and 8 children.
Skye House
Skye House and its Mediterranean charm is definitely a must-stay if you're looking for a family holiday by the beach. The villa comes with its own small playground and the kids' bedroom is decked with bunkbeds, making it the perfect hidey-hole for a little get-together.
5 ensuite bedrooms including bunk room, sleeps 8 adults and 6 children.
Direct access to the beach makes Indisch, an elegant colonial villa, a Lightfoot Travel favourite. To keep the old glamour feel, Indisch boasts a vintage Mercedes to take you on trips to Galle Fort.
5 ensuite bedrooms, sleeps 10.
Hill Country
The mere train ride aboard an old, colonial British train is magical and mirrors the beauty of what awaits up in Hill Country. As a top tea-producing country, Sri Lanka offers another side to its golden beaches that few are aware of. Tea plantations of emerald green as far as the eye can see are a truly beautiful sight. For even more breath-taking views, hike up Adam's Peak or Ella Rock, worth every drop of sweat.
Where to stay:
A fitting name for this property located smack in the middle of Hill Country, Tea Trails is the crème de la crème in the region, where you can experience (in luxury) the life of a working tea estate and of course sample the exquisite tea that is produced on site. The Tea Trails estate comprises 4 colonial bungalows, scattered amongst its rolling green hills, each with 4 to 6 suites. Extended families are welcome to book the entire bungalow or a couple can choose just one of the suites.
20 suites of various sizes in 4 separate bungalows
Tea Trails
Half way between a villa and a hotel, Lavender House is a former tea planter's residence transformed into a charming 5 suite property. This cosy abode places strong emphases on using produce grown on the property, guaranteeing creative and delicious meals. Tea plantations are never far off, but we also urge you to visit Uda Walawe National Park, a great excursion for families and elephant lovers.
5 suites sleeping 10, which can be rented out individually or as a whole
A dash of old-world charm mixed with modern sophistication, and voila you have Mas Villa, a historic 250-year-old Manor House. There's no other property more suited for those looking for a relaxing and secluded escape. For some outdoors fun, head over to Kotmale Reservoir for some fishing, mountain biking or hiking then come home to a wonderful massage in the spa.
7 suites sleeping 14, which can be rented out individually or as a whole
Galle Fort
A Unesco World Heritage Site, Galle Fort is filled with colourful history, bursting with the scent of spices, and beautiful Dutch colonial buildings. Truly an unmissable destination! A very artistic vibe emanates throughout, with charming boutiques, cafes and hotels. The architecture and the tropical setting make for endlessly interesting nooks and crannies to be discovered.
Where to stay:
Away from the town's gentle buzz, yet right in the centre of Galle, lies 20 Middle Street. This luxurious private oasis retains its charm and wows with its views over the Fort. An intimate yet airy villa is the perfect starting point from which to discover the Sri Lankan coast or take a ramble through the Fort .
3 ensuite bedrooms, sleeps 6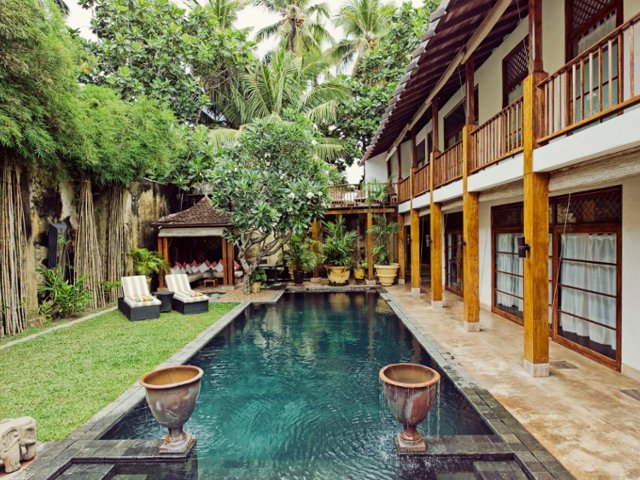 41 Lighthouse Street
One of the largest houses in the fort, 41 Lighthouse Street is Tatler's choice of Sri Lanka's sexiest villa. Right in the centre of all the action and just a short tuk tuk ride away from golden beaches, the villa's large garden boasts a vast swimming pool and sheltered gazebo to while away the days. The villa is a great choice for families and also boasts the only pool table in the entire fort!
3 ensuite bedrooms, sleeps 6, which can be rented out individually or as a whole
What makes 25 Rampart Street truly magical, in addition to its location overlooking the Fort and the Indian Ocean, its spacious and comfortable rooms and charming design, is the staff. Manoj and Saman really add life to the house and provide impeccable service, ensuring an unforgettable holiday!
3 bedrooms, sleeps 8
If you're planning a holiday to the 'Pearl of the Indian Ocean', the best time to travel is between February and April, right between the two monsoons that hit various parts of the country. With such a small window for perfect weather throughout the country, combined with long CNY & Easter holidays, it's no surprise that villas fill up fast.
Images: Lightfoot Travel
This article was brought to you by Lightfoot Travel, a Singapore-based luxury tour operator offering expert travel advice & inspiration, tailor-made itineraries & full booking services.