Celebrities are people too; they just look better, live better, dress better, and because being famous is tough work, they take better holidays too.
A-listers certainly know where the best vacation spots are and the creatures of habit among them return year after year. The trendier of them, however, break ahead of the pack and dictate fashionable holiday destinations for the benefit of us plebeians.
Out: Saint-Tropez, France
In: Mykonos, Greece
Spotted: Lindsay Lohan, Cristiano Ronaldo, the Kardashians, Olivia Palermo, Sofia Vergara
Back in the 60s and 70s, famous jet setters seemed to be divided in two camps when it came to summer holidays – Brigitte Bardot and Mick Jagger were firm Saint-Tropez fans while Jackie Onassis and Grace Kelly spent many a sunny day on the beaches of Mykonos. As time went on, the French Riviera town overtook the party central of Greece as the summer destination of choice among the glitterati, but the past couple of years have seen the resurgence of the Cycladic island as a celebrity magnet. The azure waters of the Aegean Sea, waves of whitewashed houses and fine dining aside, A-listers are drawn to the charming village feel of Mykonos by day and the carousing, hedonistic beach parties that take place all night long.
Out: Saint Barthélemy (or St. Barts for short), France
In: Bora Bora, French Polynesia
Spotted: Leonardo di Caprio, Heidi Klum, Miranda Kerr, Nicole Kidman, Eva Longoria, Jennifer Aniston
Leonardo DiCaprio photo credit: Tahiti Nui Television; Bora Bora photo credit: Visual Itineraries
With its paradise-like location east of Puerto Rico and the Virgin Islands, St. Barts has long been a tropical playground for the famous and extremely rich. These days however, tastemakers are traipsing over to another French collectivity island, Bora Bora. Acknowledged as the birthplace of overwater bungalows, the pristine beaches and ultra-luxurious resorts set against the backdrop of an extinct volcano prove irresistible for celebrities such as Leonardo DiCaprio, who made the decidedly long trek down last year with then girlfriend and Victoria's Secret model, Toni Garrn.
Out: Portofino, Italy
In: Hvar, Croatia
Spotted: Keira Knightley, Ellen DeGeneres & Porta De Rossi, Sam Worthington, Beyonce & Jay-Z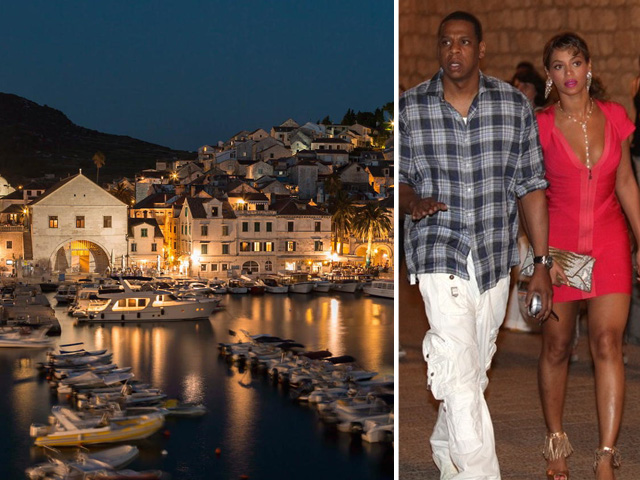 Jay-Z and Beyonce photo credit: www.croatia.hr; Hvar photo credit: 500px
Portofino was the European coastal village of choice for Hollywood legends such as Cary Grant, Ava Gardner and Elizabeth Taylor but Hvar in Croatia, with its historical towns and breathtaking views of the Adriatic Sea, seem to be pulling in modern A-listers by the droves. 2014 alone saw Keira Knightley, Ellen DeGeneres and Terminator Salvation star Sam Worthington visiting the scenic Dalmatian island. The town credits power couple Beyonce and Jay-Z for putting it on the map when they holidayed there while Queen B was pregnant with Blue Ivy; the latter has since been named an honorary citizen. With Hvar making UK's Sunday Times 2012 list of Top 100 Affordable Places on the Med, this is one favourite celebrity destination within reach for the rest of us.
Out: Las Vegas, USA
In: Dubai, UAE
Spotted: Selena Gomez, Kendall Jenner, Nicole Scherzinger, Jude Law, Rita Ora, the Beckhams
Selena Gomez photo credit: E! Online; Dubai photo credit: feelneed
On Dubai, singer Nicole Scherzinger said, "It's so unique. It's like an exotic, way-more-expensive Vegas". Well, non-existence of legal casinos aside, it seems like the young and restless celebrity pack agree with Scherzinger, a repeat visitor. Recent visitors Selena Gomez, Kendall Jenner and a bunch of their semi-famous friends counted down 2015 from the UAE's most extravagant city. Detailing their every move on Instagram, they went on a desert safari, dined at expensive restaurants, took helicopter rides, sky-dived, visited mosques and frolicked on man-made beaches; showcasing to the world all this desert wonderland has to offer while wearing as little as they could get away with.
Out: Miami, USA
In: Rio de Janeiro, Brazil
Spotted: Kate Moss, Rihanna, Eva Longoria, LeBron James, Will Smith, Kanye West & Kim Kardashian
Kate Moss photo credit: Kate Moss Universe; Rio photo credit: Wallpaper Vacations
Rio de Janeiro, with its tropical climate, long stretches of beach and vibrant nightlife, is often compared to Miami. However, it is not these qualities alone that gave Rio the moniker, "Marvellous City". Rio lays claim to one of the New 7 Wonders of the World, the Christ the Redeemer statue, as well as one of the largest urban forests in the world, Tijuca National Park. The city's two biggest parties, Carnivale (in February, just before Lent) and Reveillon (celebrated on New Year's Eve), are big draws for celebrities, who take the opportunity to explore Rio's eclectic neighbourhoods and go on "favela" (slum) tours. Kate Moss visited Rio with her family last year, and since Kate Moss is the authority on all that's cool, we should all aspire to visit Brazil's samba capital too.
This article was contributed by Maewyn Tan, founder of Curated Travel, a personalised holiday planning agency based in Singapore.
Top image: Ronaldo photo credit: cristianoronaldofan.net; Mykonos photo credit: vacationgreece.eu